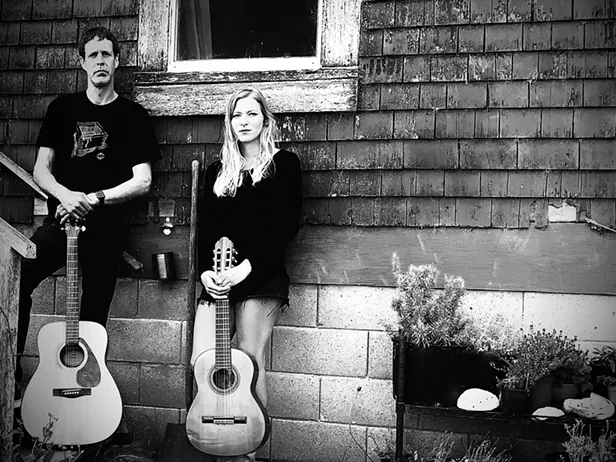 Presented by Eureka Main Street. Our galleries, museums, theatres, bars and restaurants are open. The indoor mask requirement for vaccinated people has expired. However, many businesses continue to require everyone to wear masks and follow other COVID safety precautions to keep customers and employees safe. Please respect each company's standards, be friendly and enjoy the evening!
ART CENTER SPACE 620 Second Street Selection of local art.
BARK STARR 405 Second St. Christina Anastasia, jewelry.
THE BODEGA 426 Third Street "Sequoia Stitches", Kendall, sculpture and mixed media.
C STREET STUDIOS 208 C St Various artists.
CANVAS + SOUND 233F St. "VIBES", Blake Reagan and Reuben T Mayes, acrylic painting.
CLARKE HISTORICAL MUSEUM 240 East St. Josh Overington, Drawings.
THE INSTITUTE GALLERY 420 Second Street "Electric Intimacy", Hannah Lynn Woebkenberg.
EUREKA BOOKS 426 Second Street Crossing Paths: A Pacific Crest Trail ReaderRees Hughes book signing.
FACES OF THE MOON 612 Second Street Maja Chenmo, Drawings.
HUMBOLDT FOUND FOREVER 109 Fifth St. Music by Diamond Saints.
GOOD RELATIONSHIPS 223 Second Street Lauren Keenados, mixed media. Rag Doll Burlesque live modeling in the windows.
HUMBOLDT ARTIST STATE 636Fstr. the divine feminine, Barrie Love in the Knights Gallery, journey to the center of milk, Nancy Tobin at Thonson Gallery and new sculpture and drawing, Kit Davenport at the Anderson Gallery. Music by Silver and Nails.
HUMBOLDT HERBS 300 Second St. Joy Holland, Mosaics with film photography. Music by The Gritty Kitties.
ONLY MY TYPE LETTER PAPER 235F St Bridgette Garuti, mixed media. Music by Blue Dragon Steel Band.
LAND OF THE BEAUTIFUL 127Fstr. Music by Jeffrey Smoller.
MANY HANDS GALLERY 438 Second Street Featuring works by 40 local artists and items from around the world.
MENDENHALL STUDIOS 215C St Various artists.
NORTHERN CALIFORNIA INDIAN ART AND GIFT SHOP 240F St. Jesika Garbe, jewelry and clothing.
NCRT 300 Fifth Street Club Triangle opening night. Tickets available at ncrt.net.
OLD TOWN ART GALLERY 417 Second St. Group Springtime Show, Veronica Daw, Cynthia Julian, Evan Kovasi, photography, oil painting, acrylic painting, watercolour, mixed media and jewelry. Guest Artist Jennifer Hubbert, Ceramics.
OLD TOWN INK LAB 212 G St, Suite 103 Wanderstay vending machine full of art and fun.
OLD TOWN COFFEE & CHOCOLATE 211F St Kites in collaboration with and celebration of the Humboldt Kite Festival in May. Music by the Blueberry Hill Boogie Band.
PEARL LOUNGE 507 Second St. Anna Amezcua and Nancy Ayers, oil painting, acrylic painting and mixed media.
REAL WELLNESS CENTER 517 Fifth St. Collection of local artists and glassblowers from Humboldt and around the world.
REDWOOD ART ASSOCIATION 603F St The 64th Humboldt Youth Exhibition in association with the Cal Poly Humboldt Art Education Department.
REDWOOD CURTAIN THEATER 220 First St. Redwood Curtain Theater reopening reception with finger food and drinks; Dutch Auction and a Redwood Theater Casting representative in the lobby; Ink illustrations by Darcy Brown. Music by Justin Ross.
REDWOOD DISCOVERY MUSEUM 612 Gstr. children live! 17:30-20:00
REDWOOD MUSIC MARKET 511F St Music by Joyce Carter and Greg Quast.
REDWOOD RETRO 211 Gstr. Amen! Lao Tzu, Retro Electro Fashion Show and electronic music. After party from 9pm to 11pm
RESTAURANT FIVE ELEVEN 511 Second St. Anna Amezcua and Nancy Ayers, oil painting, acrylic painting and mixed media.
ROSE BUTTON HOUSEWARE 213F St Tina Rousselot, oil painting.
SAILOR'S GRAVE TATTOO 138 Second Street tattoo art.
SHIPWRECK 430 Third Street Renee Thompson, paintings and maps.
SIDEWALK GALLERY at Ellis Art & Engineering 401 Fifth St. Humboldt Waters, Jennifer Liu.
THE SPEAKEREASY 411 Operngasse. Music by Jenni and David and the Sweet Soul Band from 8pm to 11pm
TAIL CAR 2 239 G St Store animals and discounts (excluding pet supplies) from 12:00 p.m. to 8:00 p.m
ZEN HUMBOLDT 437Fstr. "A Crystal in Time", Ariel Graves, mixed medium.
ZUMBIDO GIFTS 410 Second Street Carolyn Jones, handwoven textiles and scarves.