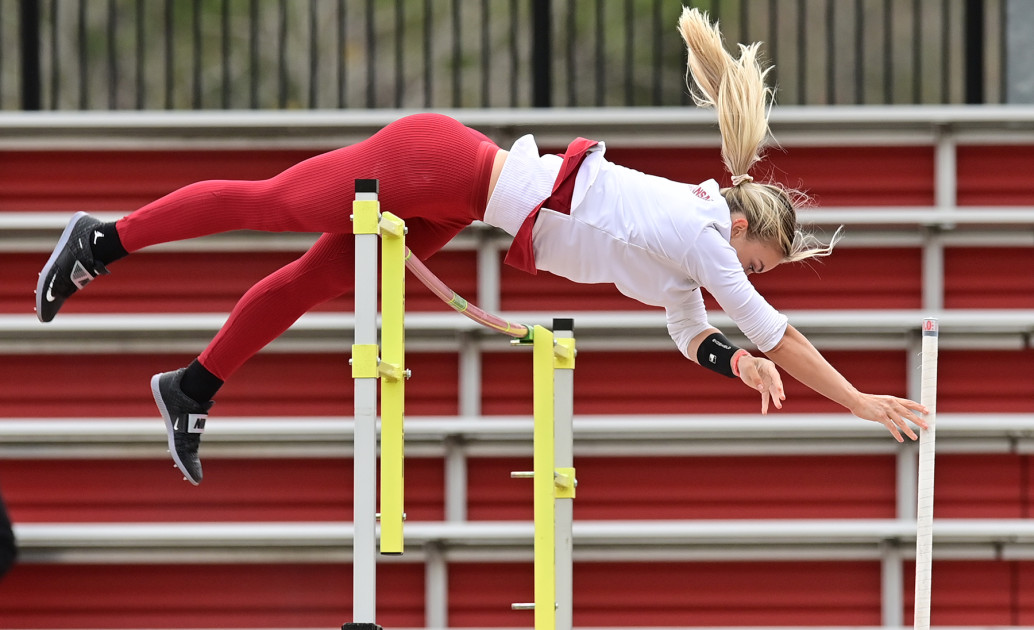 Career best Amanda Fassold arches to McDonnell win
FAYETTEVILLE – Razorback high jumper Amanda Fassold set two outdoor career highs by winning the pole vault on Friday afternoon on a cold and windy outing at the John McDonnell Invitational.
"To win in these conditions shows that you're able to take the weather and look past it while making good jumps," Fassold said. "It shows you can get over it. I think it's great that we were all able to come out here and smash a few bars."
Arkansas placed first through fifth in the pole vault. Mackenzie Hayward and Kaitlyn Banas finished second and third, 13-2.5 (4.03) each. Bailee McCorkle was fourth with 12-8.75 (3.88) while Grace Ridgeway was fifth with 12-2.75 (3.73).
Fassold, who placed third in the Texas Relays a few weeks ago, cleaned the first four meters of elevation she attempted. It took Fassold two attempts at 14-0.5 (4.28) to match her previous outdoor best, then erased 14-4.5 (4.38) on her third attempt to set a career best.
"I was just trying to find it within myself to keep going," Fassold said of overcoming a PR peak on the third attempt. "I love the consistency I had in the first few meters of climbing and I'm hoping for that.
"Sometimes it's not, and I have to fine tune things, take a bigger pole and plant bigger to make it over that pole with Juice on the third try."
On the all-time list of UA, Fassold is number 8, which corresponds to the size of Desiree Freier. Fassold is currently eighth among peers for the 2022 outdoor season.
"To be honest, I'm really bad at understanding when to go downwind," Fassold noted. "The coach yells at me a bit for that. So I have yet to figure out when to find the perfect timing.
"I'm just coming out here and trying to fight through the wind and cold weather and get some good jumps along the way. That was the goal today."
Other wins that day for Arkansas, aside from limited competition from the Razorbacks, included Kennedy Thomson in the 800m along with new Razorback rookie Mia Cochran in the 3,000m.
Thomson ran 2:10.01 to win the 800m over Missouri State's Sierra Williams, who clocked a 2:10.60. Carmie Prinsloo was sixth in 2:13.71.
Cochran of Moon Area High School in Pennsylvania ran a 9:42.92 to defeat current Razorbacks London Culbreath (9:56.99) and Adoette Vaughan (9:59.97). Cochran had a 3:10.04 1K split and extended a five-second lead over the field behind Isabel Van Camp (3:09.78).
Cochran was recently announced by USA Today as the nominee for National Girls Cross Country Runner of the Year at the High School Sports Awards. The winner of the award will be announced on July 31st.