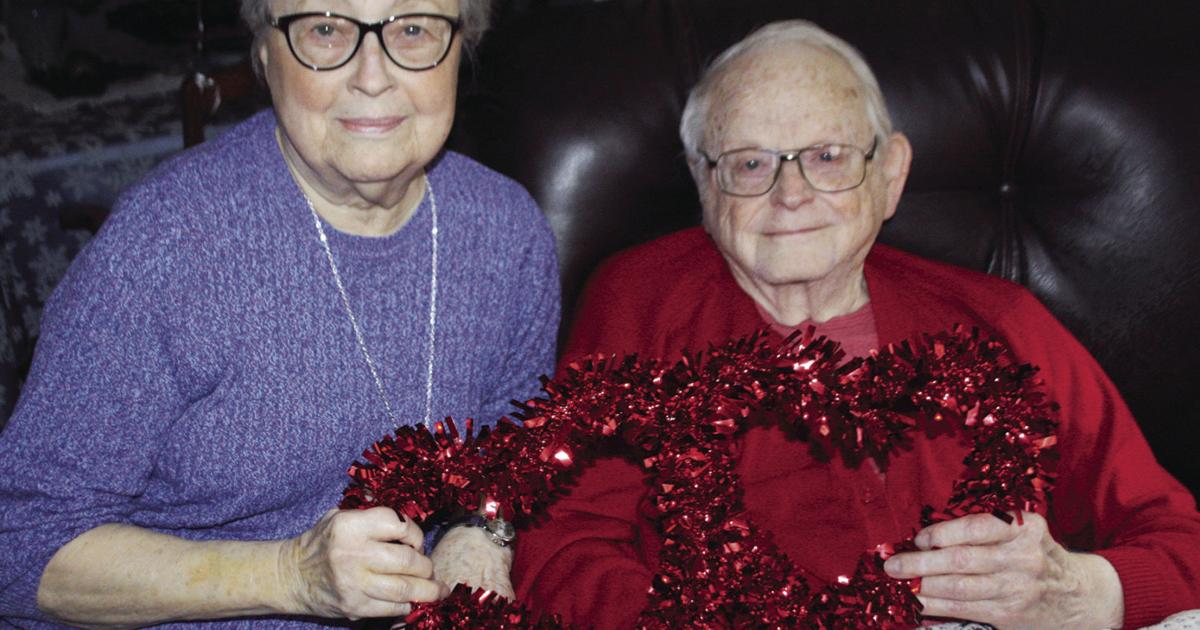 Charles and Betty Austin are bound at heart and knit in God and family Pontotoc progression
Great is your faithfulness, O God, my father
There is no shadow of turning back with you
You don't change, your mercy doesn't fail
As you were, you will always be
It was a simple suggestion from a humble town boy. And with her "yes" began a journey that took Charles and Betty Austin 67 years and six months.
"We got married on August 10, 1954," Betty said. She smiled thoughtfully. "Sometimes it seems like 100 years ago and sometimes it seems like it was last week."
Charles smiled crookedly. "And that's with the same woman, too," he said.
It was amazing that the two were able to meet because Betty grew up in Zion Church while Charles grew up in the city.
They met each other because of school. "You see, school in the Zion Church only went through the eighth grade, and to finish high school everyone had to come to Pontotoc City," Betty recalled. "I met him when I was in tenth grade. We didn't date that much in tenth grade and a little more in eleventh grade, but in twelfth grade, yeah."
So fresh out of high school that he decided to marry this country girl.
"But first I had to talk to her daddy." He grinned widely.
"Yes, and he was scared to death of him," Betty interjected.
Charles shrugged. "He left every time I came up."
But he discussed his future plans with her daddy and then went to see this pretty girl who had his heart beating. His proposal was simple and straight forward.
"I said 'I have the ring, do you want to get married?'" Betty smiled at the memory.
"I've often said that I was the country girl who married the city boy."
They had a simple ceremony at First Baptist Church. It was her and the preacher and a best man that Tuesday, and instead of whirling his newlyweds into a bridal suite, these two had to spend their first night of bliss at the drive-in cinema here in Pontotoc.
"I ran the film projector for Mr. Virgil Easterling," Charles said. "And not everyone could run these things. They would easily catch fire. I tried and tried to get someone to take my place, but nobody could."
"So we spent our first night at the drive-thru," Betty interjected. "I can't even remember the movie that was on. I didn't even go in, I stayed outside in the car while he did that."
Summer and winter, spring and harvest
Sun, moon and stars in their orbits above
Connect with all of nature in diverse witness
To your great faithfulness, mercy and love
Life was different for couples in the 1950s who were just starting out. Houses were hard to come by.
"We lived with his mom and dad for the first six months," Betty said. "Then I got an apartment on Warren Street and lived there for about six months. One of Mom and Dad's rental houses opened up on Reynolds Street and we lived there. In our third year of marriage we built a house on Clark Street."
"And we've lived there for 47 years," added Charles. "I didn't think I would ever walk away from there until I got my soles up, but we did."
"All the neighbors have moved away," Betty interjected.
Charles nodded, "And Mom and Dad died."
But in the meantime, while living on Clark Street, the couple gave birth to and raised four children: Joy Austin Cox, Jill Austin, Jane Austin Chamblee and Joe Austin. And life was filled with laughter and tears, but they still stuck together through it all.
"We kind of liked each other," Charles said of their years together. He grinned.
"You make that vow and it's a serious thing," Betty said. "You never agree on everything, but you give it time to develop. You have to think about it and give him time to think about it and work it out in his head too."
"But you're not even thinking about leaving," Charles said. "And it seemed like you never had enough money, but you made do with what you had."
Forgiveness for sin and a peace that endures
Your own dear presence to encourage and guide
Your strength for today and bright hope for tomorrow
Blessings all mine, with ten thousand besides
The real secret of raising children, according to Betty, is where you spend your time with them. "We were always in church," she says. "We carried our children to church. The Lord has blessed us to set ourselves and our families on the right path."
And raising children has ups and downs and bumps along the way.
"I remember having an accident when Joy was a baby," Betty said. "She was in the car seat, but at the time they were just hanging from the seat with these hooked silver bars and weren't buckled up. She was thrown forward and wasn't hurt, but I was scared to death. "
And family trips to the mountains were also a way the Austins bonded. You see, after Betty got married, her parents moved to Massachusetts to be close to her older sister. This meant families had to travel back and forth if they wanted to see each other. The Austins went to their parents' house every few summers.
"There wasn't an interstate back then," Charles said. "We drove through North Carolina in the old number 11 to get there. And the mountains were straight down. We had to stop once so Joe could take care of business because there were no rest stops or shops. He was about five years old and Joy thought she had to help him because he was so close to the edge of the mountain that there was a little argument and they both fell over the edge. Joy caught a little bush and I got there just in time to catch Joe."
Many will remember Betty as the smiling face at Pontotoc Town Hall and Charles for his radio and television repair shop. Even as a teenager it was a fascination for him. "Mr. Graden Henry had the first television in our neighborhood. We all gathered there to watch it. When they wanted to go to bed, they told us to turn off the light when we left the house. I can "I can't imagine the neighborhood watching TV in our house these days. Everyone has one."
And a lot of people have them because people like Charles were able to breathe new life into second-hand models to make them affordable.
"I have worked with Mr. Eubanks and also with Mr. Jeff Rish. He taught me a lot. In 1959 I opened my own workshop, Austin Electronics, and kept it for 35 to 40 years before selling it." But after he sold his business, he didn't just go home and sit down. He rode a tour bus "across the United States. I traveled to New Mexico, Colorado, Arizona, to Niagara Falls, places I could never have afforded but got to see because I took the bus. And after he retired from that, he drove a school bus for a few years."
However, his love of electronics never left him as he always volunteered to make sure the announcer could be heard at the Christmas parade or that the bands could be heard at the Bodock Festival. He smiled softly. "I set up the sound system at First Baptist Church and started the television ministry there. Now I can go to church from home because I can't leave the house." The blessings he began for others are now blessing his own life.
But through it all, no matter where he roamed to him and his lovely bride, there was no place like Pontotoc.
"Home is a good place," Betty said. "Even though we were away, we were always glad to come home." And home is the foundation of all teachings for her.
"You should read to your children. They should also have their toys. And you shouldn't solve every problem they have. Let them think things through and understand why they shouldn't hit someone else."
They now have grandchildren and great-grandchildren to make their journeys on this earth joyful; but their lives are intertwined.
Charles looked over at his wife with love in his eyes.
"I don't know what I would have done without her. I don't think I would have ever left high school."
She grinned and blushed like the schoolgirl she was when they first met. "Of course you would," she replied. "We called you Mr. Fix it because you used to fix everything at school."
Your faithfulness is great
Your faithfulness is great
Morning after morning I see new graces
Anything I needed, your hand always provided
Great is your faithfulness to me, Lord
Throughout their lives they have turned to God and to each other for hope and help, even as they find themselves in their twilight years.
"We've been through a lot," Charles said. "But Paul said in Philippians 4:13, 'I can do all things through Christ who strengthens me.'"
"And we learned who to carry our burdens to," Betty said. "Matthew 11:28 says, 'Come to me, all you who are weary and heavy laden, and I will give you rest.'"
And through their faithfulness to God and to one another, the couple laid a strong foundation for generations to come.
The words in italics are the hymn Great is Thy Faith written by Thomas Chisholm.