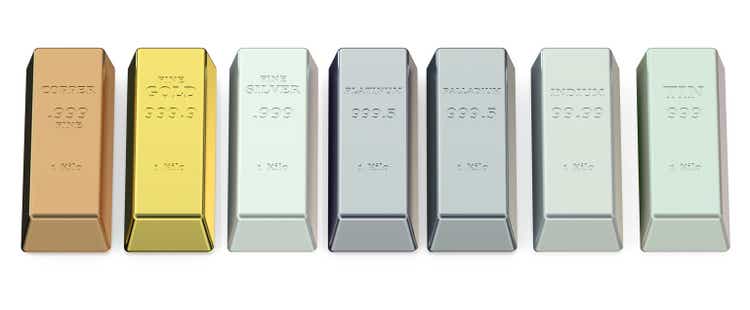 Gold, silver and palladium are falling, and these ETFs are falling with them
Precious metals such as gold (XAUUSD:CUR), silver (XAGUSD:CUR) and palladium (XPDUSD:CUR) have fallen at the start of the trading week, and the move lower is followed by ETFs that provide access to commodities through cash funds that hold the physical metals.
Gold: The yellow metal has fallen 1.7% at the start of Monday's trading session and is heading towards its 100-day moving average. Also, gold has now fallen too 5% from its recent peak on April 18th.
Three funds that have fallen along with gold prices are the SPDR Gold Trust ETF (NYSEARCA:GLD) -1.6%iShares Gold Trust ETF (NYSEARCA:IAU) -1.6%and the Aberdeen Standard Physical Gold Shares ETF (SGOL) -1.7%.
GLD leads all three with more than $63 billion in assets under management, but SGOL offers a cheaper route as the fund has an expense ratio of 0.17% compared to IAU's 0.25% and GLD's 0.40% .
Silver: Silver is trading down 2.1% and the precious metal has also closed lower for the past four sessions, attempting to make it to five today. Silver is out too 9.8% since its most recent peak on April 18.
When silver falls, so does the silver trust iShares (NYSEARCA:SLV) -2.2%the market's premier all-silver cash fund as it is the largest ETF from an AUM standpoint at $13.96 billion.
In addition to SLV, two other spot silver funds have also fallen, the Aberdeen Standard Physical Silver Shares (SIVR). -2.1% and the Sprott Physical Silver Trust (PSLV) -2.4%.
Palladium: Palladium has seen the sharpest sell-off as it is in decline 10.1% in the day and free 16.6% from its recent high of April 11th.
The Aberdeen Standard Physical Palladium Shares ETF (NYSEARCA:PALL) -9.6% is the market-leading ETF in this space with $482M under management and an expense ratio of 0.60%.
Not only precious metals funds are selling off, but benchmark ETFs, which track the three major US stock indices, have fallen to fresh one-month trading lows amid a surge in volatility.