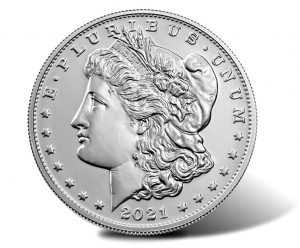 New pre-order dates for Morgan and Peace Silver Dollar 2021
The United States Mint announced new pre-order dates and lower budget limits for the four remaining silver dollars in 2021, marking the 100th anniversary of the production transition from Morgan dollars to peace dollars.
Their original June pre-order windows were postponed due to ordering issues that occurred when the first two dollars sold out on May 24th. The US Mint is now taking orders for the four remaining silver dollars on August 3rd and 10th.
In addition, budget limits have been reduced from ten to three for each dollar product.
The Mint also announced new release dates and limits for the redesigned 2021 Proof American Gold Eagles and 2021 Proof American Silver Eagles.
The US Mint's entire statement goes as follows:
Mint Announces New Morgan & Peace Pre-Order Dates To Help Improve BOT Traffic
New Eagle Silver & Gold launched first; Revised limits for household orders
During the initial pre-order window for the Morgan & Peace Dollars, the Mint saw an exceptionally high volume of BOT traffic. These BOTs were programmed to perform technology-driven transactions that caused significant disruption to many transactions by Mint customers.
To address the issue, the mint paused the pre-order windows for the remaining Morgan and Peace products until the BOT issues could be resolved. The Mint has now identified a solution that we expect will alleviate most of the problems caused by BOT traffic. While we are working diligently to implement this solution, the launch dates for American Eagle silver and gold coins will also be affected. To further increase the opportunity to purchase these high-demand products, the mint will also adjust household order limits for the new American Eagle silver and gold coins and the remaining Morgan and Peace silver dollars. While these steps will mitigate the impact of BOT traffic and improve universal access to these very popular products, the supply of silver is still limiting the US Mint's ability to fully meet demand. As a result, not everyone will be able to buy the coins of their choice.
The revised launch plans are listed below. Please be aware of the decision to postpone American Eagle Silver and Gold launches before the remaining Morgan and Peace pre-order windows. This decision was based on the unavailability of Morgan and Peace products until October. The rise of American Eagle products causes the least disruption to our customers. Our intent is to significantly improve our ability to deliver the hugely positive US Mint experience that our customers deserve.
The launch dates for the redesigned American Eagle silver and gold coins are as follows:
American Eagle SILVER PROOF COIN – W (21EAN), originally scheduled for sale on July 1st, will now be available on July 20th. go on sale
American Eagle GOLD PROOF 1 OZ (21EBN), GOLD PROOF 1/2 OZ (21ECN), GOLD PROOF 1/4 OZ. (21EDN), GOLD PROOF 1/10 OZ. (21EEN) and GOLD PROOF 4-COIN SET (21EFN), which originally went on sale on July 8th, will now go on sale on July 29th
American Eagle GOLD PROOF 1/10 OZ 2-COIN SET (NUMBERED COA) (21XK), originally scheduled for sale on July 29th
American Eagle SILVER PROOF COIN – S (21EMN), sale date was 08/16. on 08/12 postponed
The pre-order windows for the remaining Morgan and Peace silver dollars are as follows:
Morgan Dollars – SF and D (21XF, 21XG) order window is now 8/3 – 8/17
Morgan Dollar Philly and Peace Dollar (21XE, 21XH) order window is now 8/10 – 8/24
The updated HHOL are as follows:
American Eagle SILVER PROOF COIN (W) – New Design – 21EAN, HHOL = 3
American Eagle GOLD PROOF 1/10 OZ 2-COIN SET (NUMBERED COA) – 21XK, HHOL = 1
American Eagle SILVER PROOF COIN (S) – 21EMN, HHOL = 3
American Eagle SILVER UNCIRCULATED (W) – 21EGN- HHOL = 3
Morgan dollars (SF) – 21XF, HHOL = 3
Morgan dollars (D) – 21XG, HHOL = 3
Morgan Dollar Philly – 21XE, HHOL = 3
Peace Dollar – 21XH, HHOL = 3