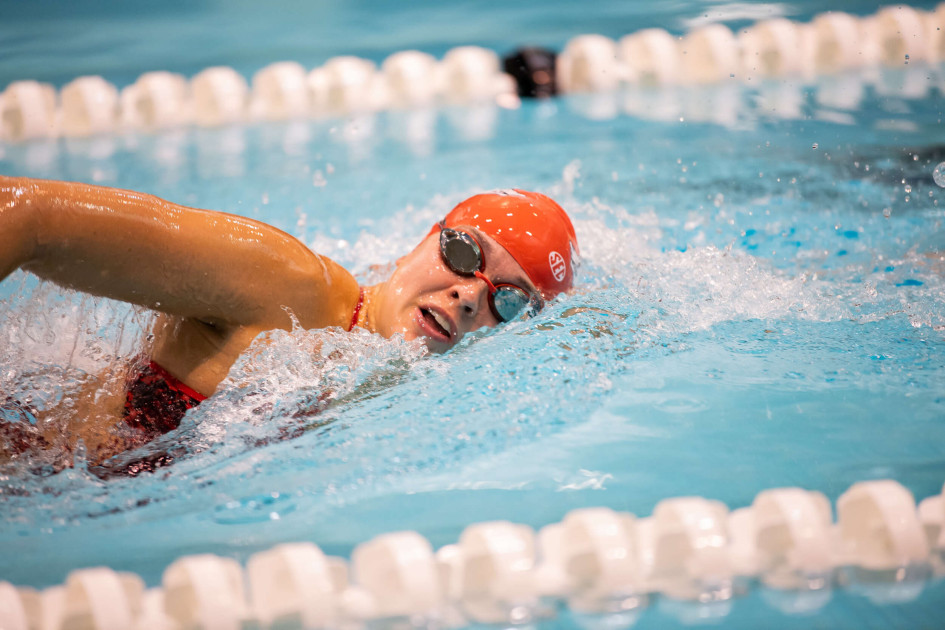 Pigs rush past moccasins | Arkansas Razorbacks
LAKELAND, Florida— The Arkansas Swimming and Diving Team ended the day with a 121-71 win over the Florida Southern Moccasins.
The Razorbacks had a total of 10 wins in the doubles against Florida Southern.
"The team scored more goals today. We enjoyed the quick swim outside and the second day in a row. Everyone seemed focused and executed many of our race goals and strategies," said head coach Neil Harper. "I thought Betsy, Kobie and Bella all with 3 wins each and Vanessa with a 1:01.8 in the 100 chest stood out today. Our team is gaining valuable experience and confidence as we host a very strong top five team from Alabama next Friday!"
Hog Highlights
Doctoral student Luciana Thomas got her first win in the 400 Individual Medley.
Razorbacks totaled 10 wins.
Newcomer Betsy Wizard achieved wins in the 100 and 200 freestyle events.
Graduate student Kobie Melton claimed two individual wins in the 100 backstroke and 50 freestyle events.
Next
Arkansas returns home to host Alabama on Friday, September 30 at 12pm CT at the Arkansas Natatorium.
More information
Stay up to date with the latest news and information and get a behind-the-scenes look at our program on social media. Follow us on Twitter @RazorbackSD and visit our Facebook page. For stats, news, and athlete information, visit ArkansasRazorbacks.com.