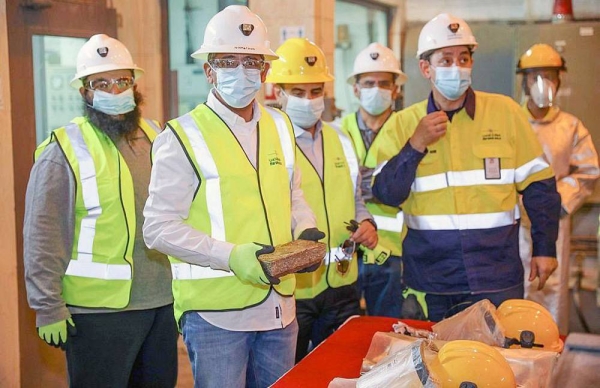 The production volume of Saudi gold exceeds 323 tons; Investment of SR 7 billion
RIAD – The Kingdom of Saudi Arabia has a rich and diversified reserve of mining potential, valued at around $ 1.3 trillion, and a large reserve of underground gold with a volume of around 323.7 tons.
As everywhere, gold is considered one of the most important precious metals on a global level in Saudi Arabia due to its connection with the international currency unit and international trade.
Gold is also used in the precision electronics and electrical industries, medical equipment, and telecommunications and transportation equipment such as aircraft and spaceship engines.
The production rate of gold has made successive leaps since the introduction of the Saudi Vision 2030, which focused on the development of the mining sector, and the sector is expected to continue growing in Saudi Arabia in the coming years.
The growth is particularly expected after the allocation of multiple locations of the mining reserve sites that are being explored based on geological studies in the Kingdom of Saudi Arabia.
According to reports from the Ministry of Industry and Natural Resources, there are great opportunities to have gold reserves in these places.
A recent decision by the ministry approved the allocation of 12 gold mining sites, which are currently being invested in by several local and international companies.
According to official figures, there are six factories in Saudi Arabia that produce gold and silver bars with an investment of over 7 billion SR.
The ministry has issued around 477 gold exploration licenses and issued a total of 15 gold sector permits, some of which have begun production while others are still under development.
The kingdom has six gold mines, the total production volume of which reached approximately 434,845 ounces in 2020, with the Al-Dweihi mine in Mecca, the largest gold mine in Saudi Arabia, producing approximately 248,998 ounces in 2020.
The Al-Amar mine, east of Riyadh, produced 31,968 ounces in 2020, while the Balgha and Al-Skheirat mines in Madinah and Qassim each produced approximately 78,524 ounces in 2020.
The Mahd Al-Dahab mine in Madinah, the oldest in Saudi Arabia, produced approximately 28,928 ounces of gold in 2020, while the Al-Souq mine in Mecca produced 20,928 ounces of gold in 2020.
This is in addition to the Mansourah and Masarrah Mine Project, the most recent project under construction, which includes two separate mines in Mecca for gold production and whose average annual production is expected to be 250,000 ounces. – SPA