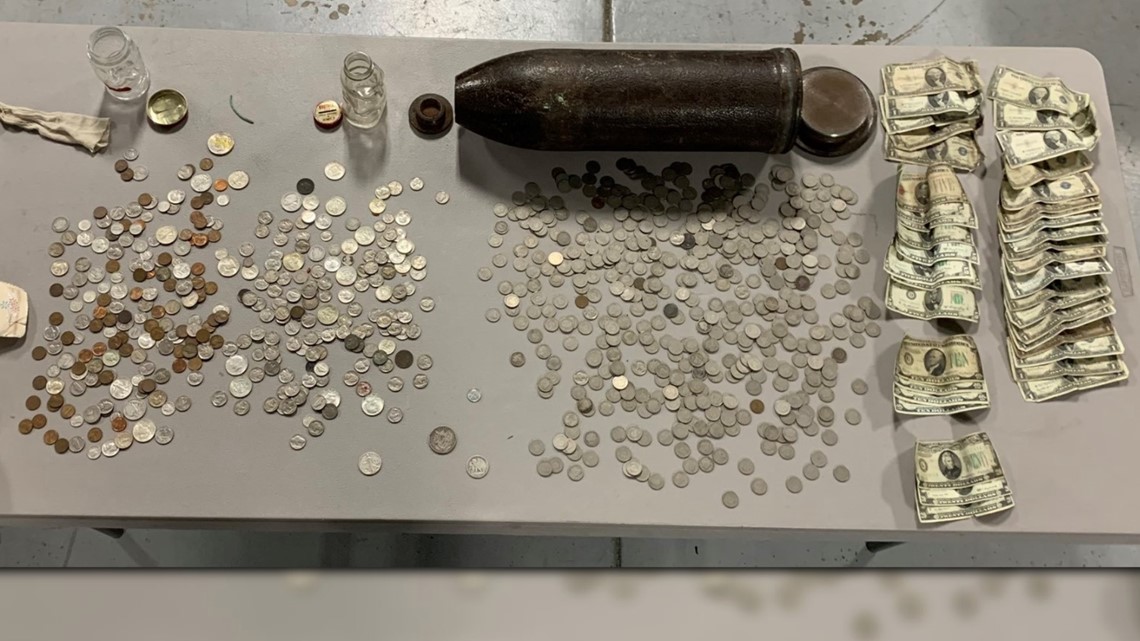 TORPEDO TREASURE: 19th century coins found in a World War I bomb in Michigan
While cleaning up a house in Lansing, Melody Atwood was shocked to find a World War I torpedo in her bedroom closet. There was a huge coin collection in the circle.
LANSING, Michigan – Ever cleared out a house and found a torpedo deep in a closet?
A Lansing woman cannot answer "no" to this question because it happened to her last weekend.
Something that many expected to be explosive turned out to be quite expensive.
On Saturday, October 23rd, Melody Atwood and her sister were cleaning up at their aunt's house in the Lansing area.
"My aunt has dementia and we took her to a nursing home where she will be from now on," Melody said. "The lady was a collector."
While Melody was collecting things downstairs, her sister was working in a bedroom closet upstairs.
"She called me and said, 'Mel, we have a problem,'" Melody said.
Melody said she went upstairs, her sister escorted her to the closet, and asked to look inside.
"There was what looked like a torpedo hidden in the back," said Melody.
The ladies did not touch it and immediately called the Lansing Police, who raced to the house. The officer examined the item carefully and then informed the ladies that it was indeed a torpedo from the First World War.
"The police didn't know whether the mortar shell was armed or not, so they called bomb squad and told us to leave," Melody said.
The Michigan State Police Bomb Squad managed to get the torpedo out of the house and take it for further inspection.
"They took a picture of it and had it X-rayed," said Melody. "Later on Saturday night, MSP called me back and said, 'You won't believe what's inside [of the mortar]. '"
The MSP lieutenant told Melody that instead of finding gunpowder or some other type of explosive charge, they discovered a huge stash of cash which he brought back and gave Melody later that evening.
"Shell" shocked: Lansing woman discovers a torpedo from the First World War that serves as a "bomb bank"
"There were several silver certified bills, many of them from the early 1900s," Melody said. "Lots of silver dollars, buffalo nickels, and old pennies."
Some of the Morgan dollars that were in Melody's newly found "Torpedo Treasure" have been dated to the 1880s.
"I've seen old money before, but nothing like that," added Melody. "It's just fun to watch it all."
Melody hopes to get in touch with a coin buyer soon who can offer an honest appraisal of their collection.
Her plan, she hopes, is to sell it to pay for her aunt's nursing home expenses.
"I think the moral of this story is to be patient with cleaning up old houses and always looking in dark places," Melody said.
►Make it easy for yourself to keep up to date with more stories like this one. Download the 13 ON YOUR SIDE app now.
Do you have a news tip? Send an email to [email protected], visit our Facebook page or Twitter. Subscribe to our YouTube channel.