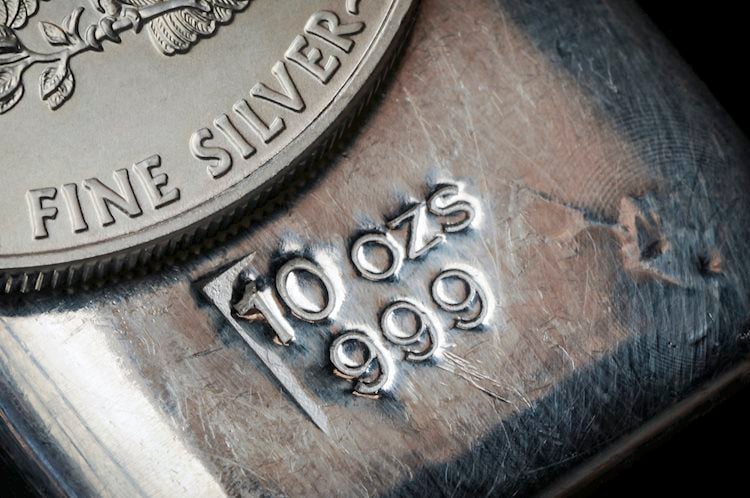 XAG/USD is rallying up to $23.00 as the XAG bulls prepare to challenge the 100-DMA
The non-yield metal rallied even though the US 10-year Treasury yield stayed above the 1.90% threshold.
US inflation expectations fall to 2.4%, FRED data shows.
XAG/USD is neutrally biased, but the XAG bulls are preparing for a test of the 100-DMA.
Silver (XAG/USD) starts the week rallies on higher notes of more than 2% on Monday. Opening the Asia-Pacific session, XAG/ÛSD is trading at $23.01. The mood on the financial markets is mixed. The Dow Jones Industrial ended with gains while the S&P 500 and Nasdaq ended with losses.
Despite the rise in US T-bond yields, silver rallied. The benchmark 10-year bond fell one basis point but remained at 1.919%, while US Real Yields closed at -1.00% on Feb. 4 but failed to weigh on the unrelenting metal.
Meanwhile, US inflation expectations eased to 2.4%, according to data from the St. Louis Federal Reserve (FRED).
A missing US economy list keeps XAG/USD traders scrutinizing January's Nonfarm Payrolls report released last Friday. The numbers far exceeded expectations, estimated at 467,000 vs. 150,000. However, concerns from the Fed about inflation kept investors focused on average hourly earnings, which shot up to 5.7%, up 0.7% from December. That said, it further cements the US Federal Reserve's dovish expectations as money market futures are priced in five rate hikes.
However, silver traders would focus on Thursday's US inflation numbers for January. Analyst estimates are for the consumer price index (CPI) to come in at 7.3%, while the core CPI, which excludes food and energy, is at 5.9%, both on an annualized basis.
XAG/USD Price Prediction: Technical Outlook
On Monday, XAG/USD broke the 50-day moving average (DMA) but faced strong resistance at $23.00. Nonetheless, the rally broke four resistance levels on its way up as XAG bulls prepare to challenge the 100-DMA at $23.19.
Silver is neutrally biased. However, a break of the 100-DMA could send the unrelenting metal higher. Initial resistance would be the Jan 3rd high at $23.40, followed by a 10-month-old downtrendline in the $24.00-$24.20 range.