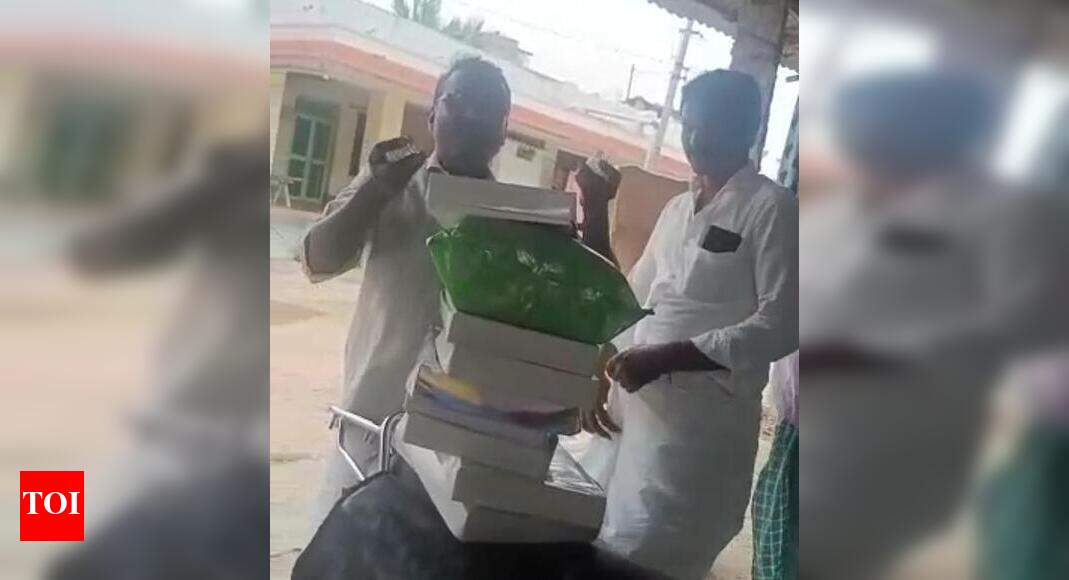 MLC polls: Ballari GP members claim BJP tried to bribe them with saris and silver coins | Hubballi news
[ad_1]
Ballari: A video of some members of Congress supporting Gram Panchayat members returning saris and
silver coins
to the Gram Panchayat president's husband has gone viral, with the accompanying claim that the gifts were presented to them by the BJP.
Congress, which supports Gram Panchayat members, returned the gifts on Friday after the MLC election vote closed.
Ballari's BJP district president said he was unaware of the video circulating on social media. He denied that any party leader gave any gifts to anyone in the run-up to the MLC polls.
The BJP's MLC candidate from here is Yachareddy Satish. He was unavailable when TOI tried to contact him.
In the video, C Basavaraj, a Gram Panchayat member in Hampadevanahalli, Kampli Taluk, is heard telling the husband of the Gram Panchayat president, "We are not stupid selling our votes for saris and silver coins for the MLC elections. You couldn't buy us with gifts and we never let ourselves be put off by such bait. "
Basavaraj has claimed that the gifts – one silver coin and one sari – were given to 11-gram panchayat members.
"We never expected a gift from the candidates and we are loyal to Congress. The party is most important to us, not such gifts. The leaders of the BJP should never underestimate the supporters of the Congress, "Basavaraj could be heard in the video.
Basavaraj and the 10 other Gram Panchayat members are loyalists to Congress candidate KC Kondaiah.
"BJP leaders offered 11 saris and 11 silver coins to vote for the BJP candidate in MLC polls. But we returned these gifts to the BJP leaders, "confirmed N Mallikarjun, a convention leader in the village.
Pavan Kumar Malpati, MLC polling officer and deputy commissioner for Ballari, was not available for comment.
[ad_2]