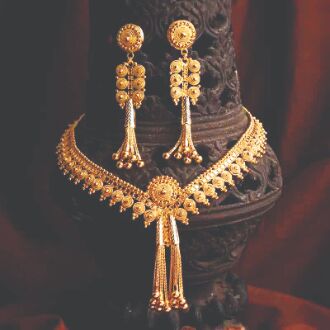 Shyam Sundar organizes Saradiya 'Swarna Sambhar 2021'
Shyam Sundar Co Jewelers has organized the 19th edition of Saradiya 'Swarna Sambhar' – the most anticipated jewelry exhibition. It started on October 1st and will last until October 11th.
This year the anchor jewelry is from the 'Chakwrakma' from the 15th and this new display of the impressive 20-foot sculpture from a bygone era is an addition to the 'Shaktirupini collection of handcrafted gold jewelry by designers that revolves around the power of Mother goddess who is expressed in gold.
The special collections of this extra special edition include handmade gold and diamond jewelry by designers, traditional and trendy bridal jewelry, dazzling collections of affordable diamond jewelry, precious stones and precious stones.
And there are many attractive offers and raffles for customers, including insured gold coins (when buying gold jewelry – weight over 15 g), insured gifts (when buying gold jewelry – weight below 15 g), fee discounts (20% discount on gold jewelry and 50 % on diamond jewelry), gemstones (10% discount on RRP), daily raffle (3 gold coins each).
Other regular facilities, services, and programs such as Sonay Sohaga (special discount program to purchase jewelry), Old Gold Exchange Facility, and gold and silver coins will also be available.
Overall, a really high profile package is available, symbolized by the logo and promise of 'Swarna Sambhar'.
The Covid protocol is strictly followed and the necessary security measures have been taken so that customers can shop safely. In addition, all employees are vaccinated.
'Saradiya Swarna Sambhar 2021' offers will be available in all Shyam Sundar Co Jewelers showrooms in Tripura (Agartala, Khowai, Dharmanagar & Udaipur) and Kolkata (Gariahat, Behala & Barasat).