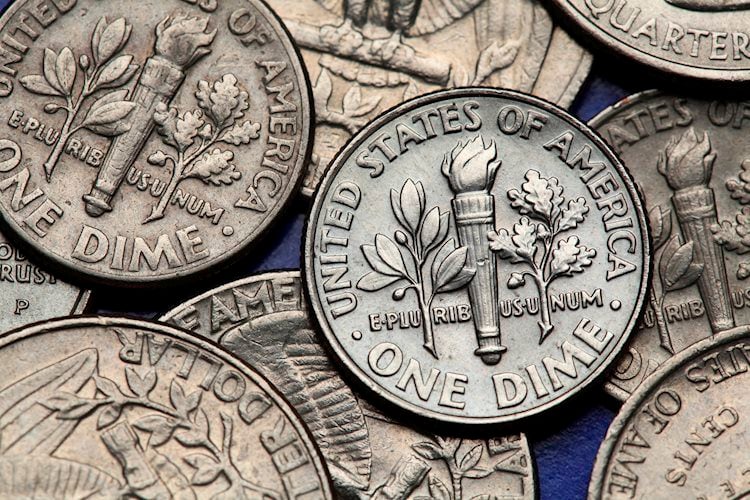 XAG/USD bounces back to $22 but still in familiar ranges – US CPI in focus
Silver is trading higher in the $22.25 range on Monday after hitting a multi-week high above $22.50 earlier in the day.
But silver remains within recent intraday ranges ahead of Friday's US CPI.
While spot silver (XAG/USD) has traded for healthy daily gains of around 1.5%, it has mostly remained stuck within recent intraday ranges. XAG/USD just managed to make fresh multi-week highs above the $22.50 a troy ounce earlier in the day but has since returned to the $22.25 region on a general lack of catalysts to stimulate cross-asset price action .
Last Friday's US jobs report for May didn't seem to shift the scale for markets too much as silver is still close to its pre-NFP levels. Data last month showed slightly faster-than-expected US employment growth but also showed that wage pressures were easing as expected, contributing to sentiment that price pressures in the US economy may be beginning to ease.
The history of US inflation (is it falling, how fast is it falling and how will the Fed react) remains in focus this week with the release of US consumer price inflation (CPI) data on Friday. After price pressures showed signs of declining slightly from elevated levels in April, market participants will be watching to see if this trend continues over the past month.
If so, it takes the pressure off the Fed to continue tightening at a fast pace. For example, a surprise on the downside would make a 50 basis point rate hike in September (50 basis points in June and July currently considered a done deal) much less likely. This could put even more pressure on the dollar and US long-term bond yields, giving silver a tailwind.
XAG/USD therefore has a pretty good chance of breaking out into the upper $22.50 and heading towards its 50-day and 200-day moving averages in the lower/mid-$23.00 later this week/next week. However, the next few days will be very quiet with no US data to speak of and no Fed spokesmen as policymakers have entered what is known as the 'blackout' ahead of next week's Fed meeting. Thursday's ECB decision will be worth watching as the bank gradually turns hawkish.