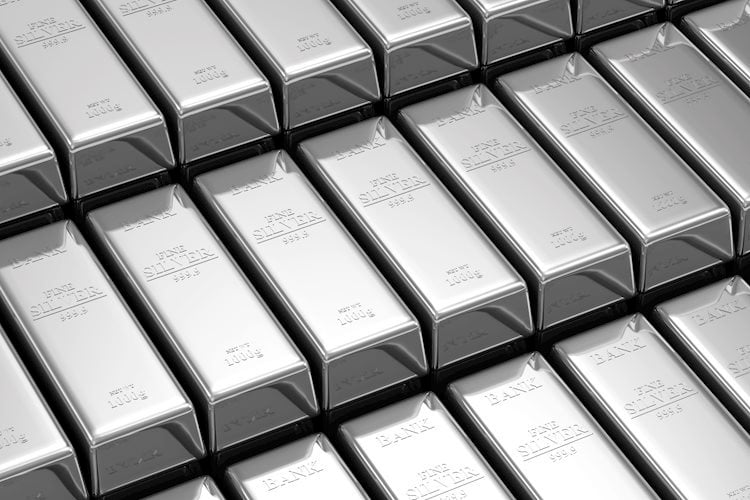 Silver is under pressure from critical daily dynamic support
Silver is under pressure as investors move into the greenback.
Event risks threaten with critical central bank meetings, which are scheduled this and next week.
US yields are adding pressure as 10 year yields are now at critical dynamic support.
Silver fell sharply the day after an aggressive 4-hour candle that extended the drift from Asian inflows back into the US dollar. At the time of writing, XAG / USD is trading at $ 24.0430, down 2.13% after falling from a high of $ 24.58 to a low of $ 23.87.
The greenback has been stuck in a tight range as markets wait for news from central bankers this week and next, including the European Central Bank on Thursday, the Bank of Canada tomorrow (Wed) and the Federal Reserve next week. The US dollar, measured by the DXY index, was unchanged at 93/95 at the time of writing, which is damaging the precious metals today. There was a strong rally in the greenback based on a triple low on the 4-hour chart after breaking out of a downtrend that began on October 12th.
Focus on US yields
Investors could well position themselves ahead of the multitude of central bank meetings and critical economic data that could change their views on interest rates, inflation and growth rates. In this regard, US 10-year bond yields are testing critical trendline support that could equate to a new uptrend that supports the US dollar and provides headwinds for precious metals:
At the time of writing, that adds up to a return of 1.6263% at lunchtime of the New York session. TD Securities analysts, meanwhile, argue that the hunt for inflation protection is intensifying.
" Ten-year break-even yields continue to solidify at their highest level since 2012 as speculators adjust to inflation. In this context, global markets continue to focus heavily on pricing the Fed's exit, with the recent surge in market-based inflation expectations fueling bets on an earlier Fed hike. "
"Still, we continue to argue that market prices are far too restrictive for Fed hikes, ignoring the fact that a surge in inflation, coupled with a potential energy shock and persistent supply chain constraints, is unlikely to trigger a Fed response," argued the analysts.
"Indeed," they said, "the market is increasingly pricing in a policy mistake that is unlikely to happen, given that central banks are likely to overlook these disruptions as their past response functions tend to correlate with growth." were than inflation. "
Technical analysis of silver and DXY
The meeting of the daily dynamics and the 21-day EMA is compelling. A pause until then could see the price rally. Or, alternatively, there are likely to be risks below the brace to the next layer near the head and shoulders neckline.
Meanwhile, the U.S. dollar looks like it's time to break:
The rally has hit a 38.2% fibo retracement and it is expected that this could resist a downside test of dynamic trendline support. On the other hand, if it breaks resistance, the next layer will be in the highs around 94.50 which would likely cripple precious metals in the short term.