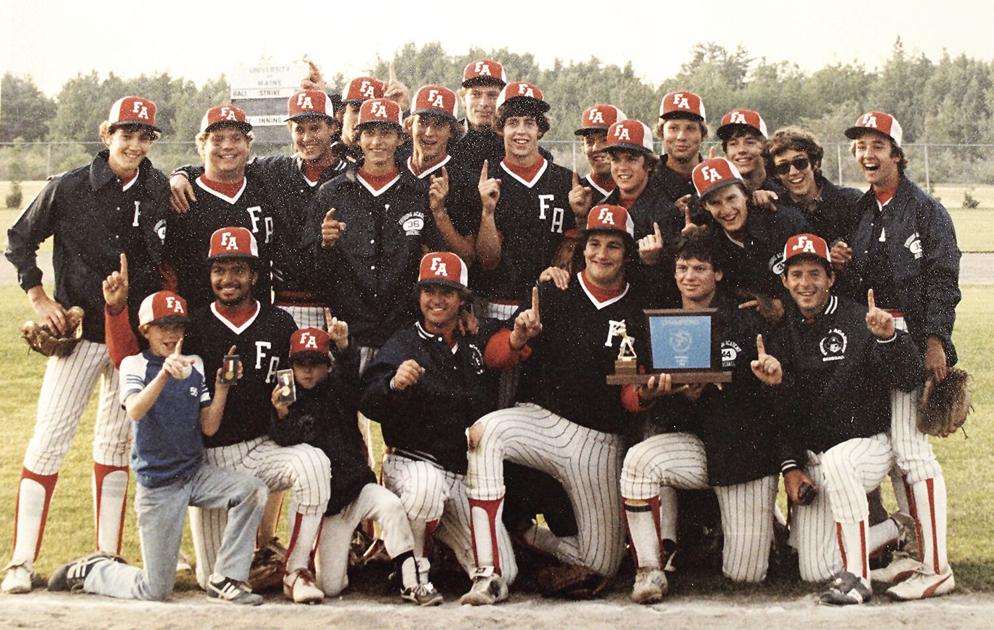 The induction ceremony for the FA Hall of Excellence will take place on Saturday | Local news
FRYEBURG, Maine – Seven People – John McSherry, born 1963; Bruce Smith, '67; Kevin Turner, '76; Ileana Casellas-Katz, '04; Coreen Hennessy Eccleston, '08; Brylie Walker Young, '10; and Daniel G. Lee (Principal from 1993-2013) – as well as the Class C baseball teams of 1982 and 83, will be inducted into the Fryeburg Academy Hall of Excellence on Leura Hill at 10:30 a.m. on Saturday Eastman Performing Arts Center.
The ceremony is public. Masks are compulsory in the center.
The Hall of Excellence was created in 2010 to "further recognize the outstanding achievements and contributions of the many talented and committed students and friends of the school in the field of extracurricular activities while maintaining the integrity of the institution".
John McSherry, born in 1963
McSherry was a college member of the football, baseball, and ski teams (captain 1962-63). He won the gold medal at the national ski jumping meeting and took part in the student council, the one-act play, the senior theater and the Latin American and French clubs. He is a graduate of Nasson College and served as the ski team captain while winning the NCAA Division 2 Championship.
After college, McSherry volunteered for active service and embarked on a notable naval career during the Vietnam War. After receiving his wings, he became a JAG (Judge Advocate General) lawyer / judge under the Uniform Code of Military Justice.
After his marine career, McSherry started a marine search and recovery operation based in the Florida Keys. He made several significant finds of historical importance, including a site with hundreds of gold and silver bars that have been confirmed to belong to Cortez. McSherry donated two Cortez silver bars and Aztec religious figures from the find to the Mexican National Museum, which document that Cortez looted and melted down local religious artifacts.
McSherry returned to the Fryeburg area to direct McSherry's Orchard in Sweden, Maine from 1989-2010. He is now retired and lives in Florida.
Bruce Smith, born in 1967
Smith was an outstanding man on the ski slopes. During his academy years, he skied in four disciplines, including slalom, downhill, cross-country skiing and ski jumping. He served as captain in his senior year and is proud of the group that won the Class A state championship. Smith was also the individual runner-up in the state meeting that year.
Smith enrolled at the University of Maine / Orono before joining the Army. He served as a non-commissioned officer, worked as a paramedic in emergency rescue and as a laboratory technician.
In 1971 he established himself in the ski industry by working locally at Pleasant Mountain and Attitash and later for John T. Mathieson Snowmaking Systems of Connecticut and Doppelmayr USA Inc. in Golden, Colo.
In 2012, Smith was awarded the Distinguished Alumni Award by the Fryeburg Academy Alumni Association for his continuous and continuous support.
Turner was a member of the legendary Class C basketball and track and field teams. He was an honorary student who excelled on the track and field fields and earned three university degrees in football.
He was an outstanding university star on the basketball court for four years – and culminated in an outstanding career with Fryeburg's first (and still only) state basketball title. The team went 21-1 in the regular season and won the class C title.
In 1974, Turner and his teammates won the sophomore year Maine State Class C and Prep School championships on the track. Turner ran the third leg of the undefeated season, was triple jump champion of the Maine State Prep School and finished second in the State C championship in the long jump.
Upon graduation, Turner attended Berkshire Community College and then Talladega College. He then worked with youth at risk and rose to Senior Youth Worker Supervisor for the New Jersey Juvenile Justice Commission.
Turner's commitment to youth at risk earned him many awards, including New Jersey Juvenile Justice Commission employee of the year.
Ileana Casellas-Katz, born in 2004
During the opening ceremony, Casellas-Katz was awarded the Gibson Memorial Medal, which was awarded to a senior class member who is ranked by the faculty as the best all-round student. She excelled both in the classroom and on the sports fields as a four-year-old member of the university's hockey team (captain, senior year) and the softball team. She was named to the Maine All-State Team and twice to the Western Maine Conference All-Star Team during her senior season (junior and senior years).
She then studied at Tufts University and graduated with a BA in American Studies.
Casellas-Katz worked for the Posse Foundation, a national organization for college access and leadership development, for eight years.
For the past three years, Casellas-Katz has returned to Columbia University overseeing counseling, advocacy, and programming for first-generation and / or low-income students.
Casellas-Katz and her husband Tom live in Brooklyn and enjoy traveling, hiking, and everything to do with food.
Coreen Hennessy Eccleston, born in 2008
Eccleston was a superstar in three sports while at Fryeburg Academy. She was a member of the soccer, basketball and track and field teams for four years and is one of four FA women to have reached the 1,000 point mark.
In athletics, Eccleston was a national champion in the long jump in 2006 and in the triple jump in 2007 and 2008. She was also a New England competitor in the long and triple jump in 2006, 2007 and 2008 and the 4×100 relay in 2006. She held the FA school record in both the triple jump and also in the 4×100.
In football, Eccleston led her team as a senior captain on the scorers list for the '07 season and was named '07 Western Maine Class B All-Star.
She continued her education at Saint Michael's College on a four-year full-ride basketball scholarship. She graduated with 758 career points and graduated in 2012 with a BA in sociology and anthropology with magna cum laude.
In 2014, Eccleston returned to FA as an ed-tech and girls' JV and assistant college soccer and basketball coach. She was named a college basketball coach in 2017 and remained in that position for three years before stepping down to spend time with her family and young son, Cian.
Brylie Walker Young, born 2010
Young was a great athlete and scholar, and an active volunteer in the community. She played college field hockey, basketball, and softball for four years and earned 12 college letters. She was the captain of field hockey and softball teams in her junior and senior years and basketball in her senior year. During those years, the softball team won the Western Maine Conference Championships in 2008, 2009 and 2010, and won the state titles in 2008 and 2009.
In 2008 and 2009 she received all-conference awards in field hockey and in 2007, 2009 and 2010 all-conference softball of the 25 best players seen in both field hockey and softball.
She graduated from the University of Maine / Orono in 2014 with a BS in Kinesiology and Physical Education and a minor in Nutrition. Young returned to Fryeburg and now works for Mountain Center Physical Therapy, where she is contracted by the Fryeburg Academy to run the strength and conditioning programs and lead fitness classes.
In 2019 she married Alec Young and they live with their Labrador Retriever Navy in Fryeburg.
During Lee's 20 years at FA, four new buildings were added to the physical structure of the campus, including the Eastman Science Center, Bion Cram Library, Ada Cram Wadsworth High School, and Leura Hill Eastman Performing Arts Center.
When the original gym was arson in 2005, the Lee and FA trustees quickly launched a fundraising campaign to capitalize on the overwhelming support from all sides of the academy base. Thanks to this, the currently state-of-the-art sports facility opened its doors in time for the 2007 class graduation ceremony.
In addition, the Academy's endowment grew from $ 3.5 million to nearly $ 20 million during Lee's tenancy.
Lee and Susie, his wife, now live in Connecticut near his son Daniel and his family.
In 1982 and 1983, the Fryeburg Academy baseball team won consecutive Western Maine Class C titles. The '82 title was the first in the school's history and the '83 title has yet to be repeated. This rags-to-riches story created memories and friendships that still exist today.
Most did not view the team as a major threat during the 1982 regular season as the Raiders quietly rolled out victories. With the entry into the championship game against the Washington Academy, FA increased its season record to 14-3, took the class C title and made for a very exciting end for the seniors who had received their diplomas in Fryeburg earlier that day.
The next year, after losing seven players to completion, the Raiders beat Calas with seven runs in the top of the sixth inning on their way to an 8-3 championship win.
Team members were Carlos Hernandez, Nathan Goff, '82 Todd Gallagher, Mark True, Tim Chandler, Mike Cogswell, Daryl Andrews, Jeff Alanskas, Fred Rogers, Donal O'Callaghan, Scott Cameron, Kent Graustein, Dave Michelini, Chris DeCesare, Jason LaMountain , Steve Cote, Vincent Manoriti, Jeff Seavey, Tim Pitman, Dana Charles, Brian Barbary, Craig Watson, Kevin Barkley 'John DeLeon, Tom Riddle and trainers Gary McClurg, Larry Gallagher and Ron Rollins.