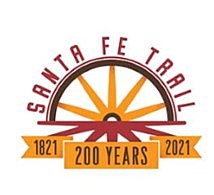 The Santa Fe Trail lives on in the 200th year
The Lt. George Farragut Chapter of Daughters of the American Revolution proudly participates in the 200th Anniversary Commemoration of the Santa Fe Trail today, September 21st.
On June 10, 1821, William Becknell published a notice in the Missouri Intelligencer newspaper urging those taking part in a trip "westward for the purpose of trading horses and mules and capturing wild animals of all kinds that we deem beneficial like to participate. "
William Becknell started out in Franklin, Missouri with five other men in September 1821. It took nearly two and a half long, cold, worrying months to reach New Mexico knowing everyone else who'd come to trade before New Mexico hadn't fared well.
Over the next 24 years, countless men from the Missouri border bought goods, hired workers, and made their way to Santa Fe. Various kinds of cloth were the main commercial product in the Southwest. Calico, chambray, dimity, flannel, gingham, linen, muslin, percale, and silk were some of the types of cloths. Other goods that were taken away were needles, threads, buttons, handkerchiefs, handkerchiefs, knives, files, axes, tools and even in 1824 "green glasses". The wagons that carried the goods were also sold together with the oxen or mules that had pulled the wagons after they were unloaded.
What was brought back to Missouri were silver coins, processed gold, wool, and large numbers of mules. The silver coins and the income from trading allowed Missouri to thrive when the financial crisis hit the rest of the country from 1821 to 1848. The Spanish and Mexican 8 reales coin were legal tender in the United States until 1857 because of their reliable silver. Missouri became known for its mules, which actually came from the southwest.
In 1850 Kansas City alone sent 500 truckloads, and in 1855 total trade was estimated at $ 5,000,000. By 1860 a total of 16,439,000 pounds should have been transported, 9,084 men were employed and 6,147 mules, 27,920 oxen and 3,033 wagons were used.
For nearly 60 years, the Santa Fe Trail was the transportation route for goods to New Mexico and the Southwest, sending back silver, furs, and mules. But ideas and culture were also exchanged along this route. New Mexicans were exposed to the Yankees and their way of doing business long before the invasion.
The Santa Fe Trail became America's first major international trade route in 1821, and has been one of the nation's great adventure routes and western expansion for nearly 60 years thereafter.
In the early 1900s, the Kansas Daughters of the American Revolution started a campaign to raise funds to place markers along the way. By 1906, the Kansas DAR had raised enough money to purchase 95 granite markings that are still in place, well-maintained, and continue to guide visitors along the trail.
• • •
Michelle Fansler is Vice Agent to Lt. George Farragut Chapter.